I woke up far to early this monday morning... I didn't really know what to do. Then I realised that there was a crop going on at the Nook and it was not due yet. So... off to creating something.
But... I must have not been really awake since the first page I made was not following the rules or "must haves". The second. Well, I was having a fight with the system to register for the gallery and that made the deadline pass with some few minutes. Since I already had done the page for that challenge, I posted it there anyway. And now it comes here too.
The challenge was a journaling one. The theme was to finish the sentence "
I can't imagine my life without _______" by filling in the blank. To this was at least five lines of journaling, black and white photo(s), 3 buttons and at least one stamp added.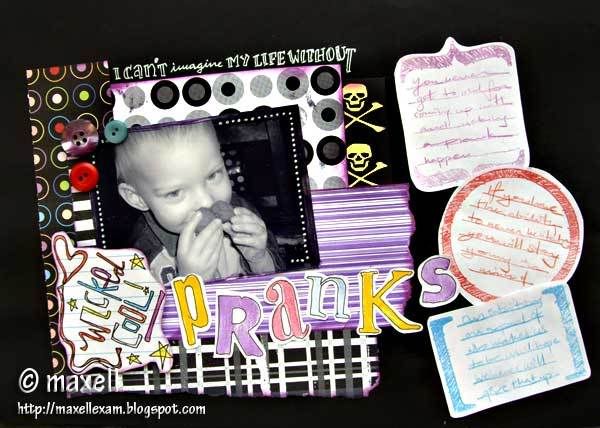 The photo is taken some time ago now. It has been laying around 'til I found a way to scrap it. There is a Swedish song which says that you are not allowed to put meatballs in your nose. So.. with regard to that song I encouraged his prank. :)
The journaling says
Purple
You never get to old for coming up with
and making a prank happen.
Red
If you have the ability to never hesitate,
you will stay young in mind.
Turquoise
Our intuitions are a part of what makes us to be us.
I hope we never give that up.
What was

your

latest prank? ;)