This technique is not that advanced but it may require some degree of patience.
;)
Don't you always have a story to tell? A story that you want to remember for yourself and, as an add-on, share with others. Sometimes these storys take place. But don't fear. It's just to grab a pen and start writing. And write. And write again.
It can however be a bit booring with word after word after word. There are of course solutions for that too. Just grab that pen again and start drawing small tiny pictures which represent the word in question. Color it in. Then cut it out and adhere it to the page. The result is playful.
I give you an example to illustrate this by showing
a page
I made about one year ago.
Everything on this page except those small feets, the bananas and, of course, the photo are written or drawn (and colored) by me.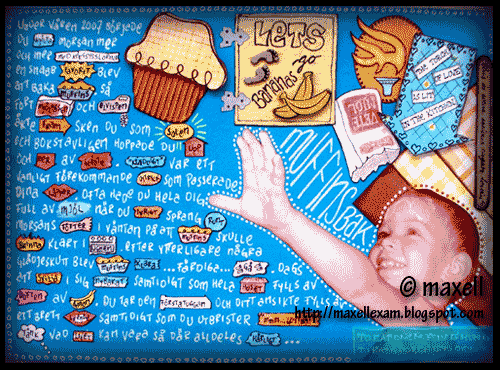 Don't think so much about how your handwriting looks like. It's yours and therefore it's more than worthy to place on a page which you create.
Just let yourself be inspired. Grab a pen and just write. And write. And draw. And... for the win-win that will increase our scrapping knowledge,

please comment to the specific posting by giving a link to whatever you create or some up with from the theme in question.

I know that I have to try out more patterned backgrounds. Any day now... :)