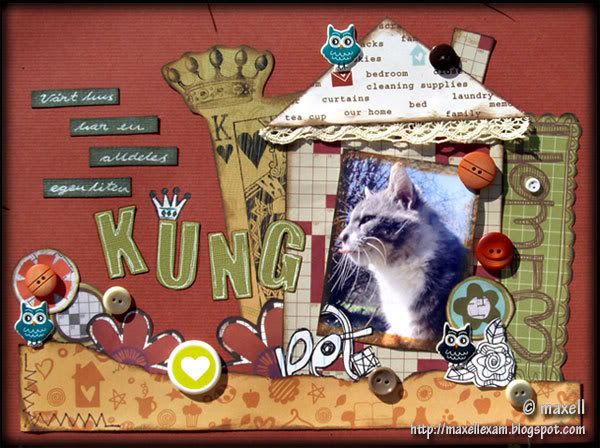 This page started out as an idea to paper piece a house, combine that with the king of heart paper and create a page about the king of the house. The king of the house is really the king of the house. He lived here before us. He refused to move. But he was nice and allowed us to move in. Isn't that a king of a house, I don't really know what's a king of a house...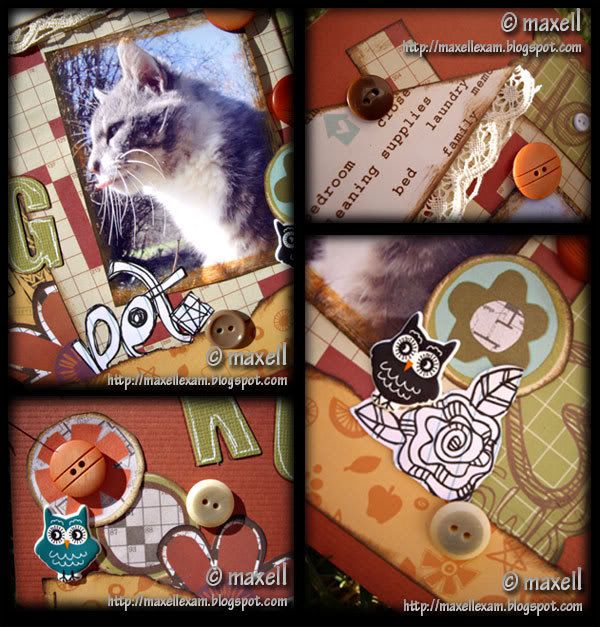 Lilo's favourite list goes


Patterned papers -- yes, they are there. Seven or eight of them.
Layer on layer -- yes we have to call this layer on layer
Lace -- yes, on the roof like a fancy rain gutter :)
Buttons -- yes, some here and some there. One of them was supposed to be a small guy, but I manged to capture the page on picture before that button turned into a small guy...
Sewing machine - I imitated that one. ;)
Embroidery - Well... I did some kind of embroidery on another page recently and to be honest... I didn't cope to do that again. :)
Staples - I decided not to use staples on this page
;)
Fun decorations - Hmmm. Fun is subjective. But I used a game marker which I put a sticker in/on, I managed to make a house and cut out some flowers from patterned papers and I adhered some of those owls which I haven't used yet.
Text strips - Yes, they are there
Acrylic - Yes, around the photo. One of my favourite ways to use acrylic...