I took on Marie's or Bitte's bingo challenge. Bingo challenge means that you are scrap from one row and use the four things this row contains. Besides these things, it's free to add additional things. My row is the last horizontal one. The one that contains buttons, something stamped, only one photo and at least three patterned papers.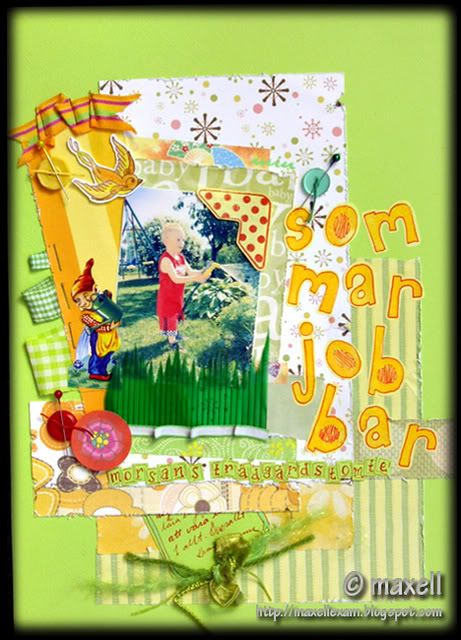 It's my garden santa. :) The garden was full of santas. That was before we took over the house where we live. There is only one santa here now and that's him. The garden is full of flowers, trees and other living things which need to be taken care of. We can say that it's a lot of work and I am therefore happy that I managed to put my child into work, that is to say that he, as the title says, has a summer job.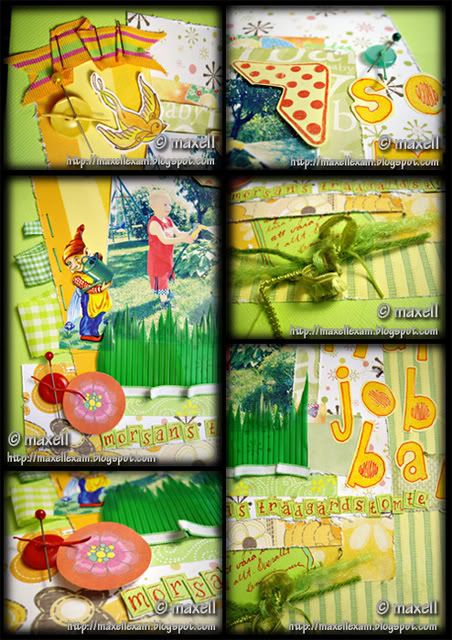 I found that little santa which is also watering some flowers and he just had to go on this page. now I urge for more of these nice pictures to use in my scrapping. The grass is a really nice decoration which I also just found here in my stash. I wonder where I can get more of that one too... it's made of some plastic material and has a nice texture and a vauge transparent touch. I also like the texture and that little extra that some yarn give to a page. Bingo! Three buttons that is. One red, one green and one yellow. Each with an attached pin. Something stamped is a photocorner, the title and a bird. One photo is there. Finally, at least three patterned pappers ended up as eight patterned papers or ten depending on how you calculate. I really like to scrap those scraps. To find the papers that go with the theme

and

color matches.