Scrapmojo
. I have been sneaking around that challenge blog for quite some time now, but never before had or taken me the time to complete a challenge.
For number 17 the challenge was to pick a
Ditty Bops
song and use the lyrics somewhere some how on the page. A second part was to doodle.
I picked a thoughtworthy part of the lyrics for
Angel with an attitude
. That is
"
Contrary to popular opinion
the very BEST things in life
are for FREE
"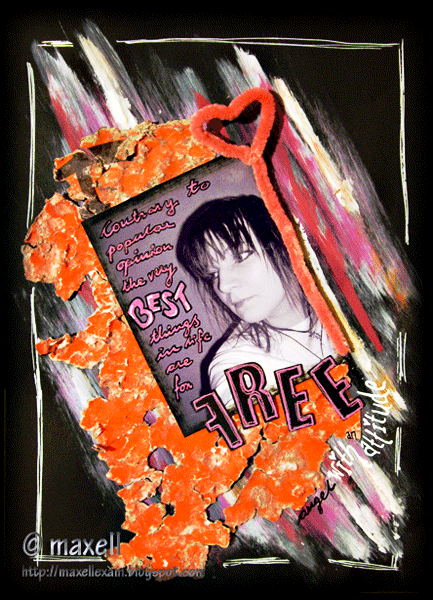 And I scrapped with a paper which used to be a poster. Then it was run over by cars. Several cars... And yes, it was for free. ;) I found it late afternoon (that is the 15th of July) when I was on my way to fetch him up from Kindergarten... It was just laying there dirty, torn, weared and shiny bright waiting to be scrapped. ;)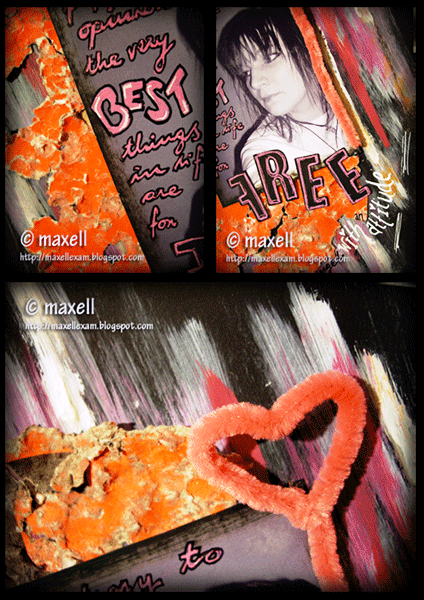 You can also read another message on this page which has to do with me, myself and I... can you see it? :) This page is sparsly decorated - as compared to many other pages I have made - but there is still a lot of things going on. The colors, the contrasts, the soft versus the hard material, the texture, the rough paper, the handwritten (doodled) text and so on...