A whole month has passed and the first part of the summer blog party is over. I recieved three contributions to my june challenge where you were to
be inspired by a very important Swedish album
One day something must happen,
when everything comes true
in combintion of

using at least three paper piecings on your work

. The paper piecings should preferably be of your own design.
The contributions to this challenge are
First out is
Bi
. She has used a wonderful colorcombination that makes me think of a real Oasis. And look at those paper piecings. Mmmm me like!
Oasis
(by
Bi)
Evelina/Alien Bling
has made an amazing page about her dark sides. She asks herself how she dares to put such a page straight in the face of people since there seems to be a norm that says that you are only allowed to scrap about happy things. Well. If you ask me...

nothing is wrong

to scrap about. That's what should be termed artistic freedom... So... here I promote this kind of daring scrapping by putting her interpretation of the challenge straight in your face. Look to see artistic freedom when it's really free.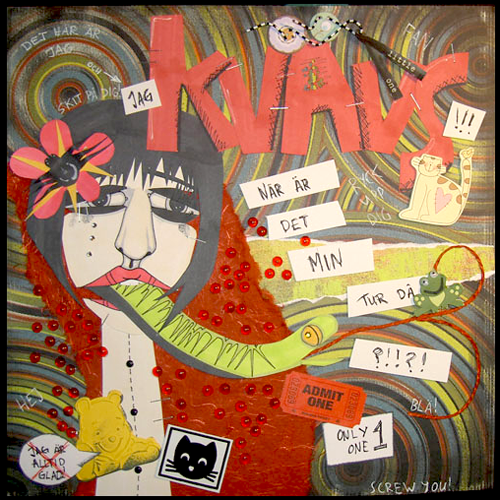 I am suffocating
(by
Evelina/Alien Bling)
The third is one that I - damn it - missed. It's from Tinto and she has made an increadible interpretation of the album and (almost) everything it stands for. No more comments are needed... just look for yourself.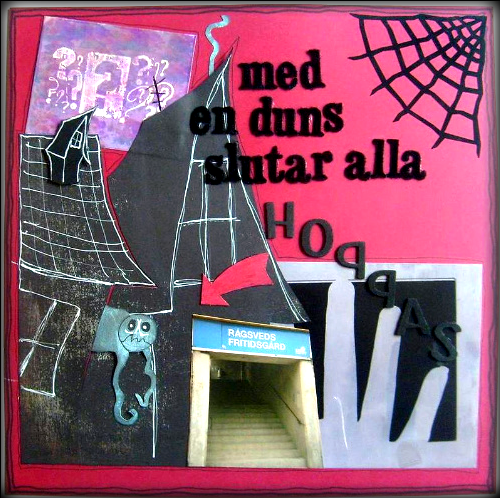 With a bump, everyone stops hoping... (by Tinto)


It must in general have been difficult to scrap about things like Rågsved, black and red, sugar solutions, overlays, more or less strange figures cut out of paper, dreams, hopes, concrete, occupation and so on. Or was it that the other challenges were more appealing? Anyway. I will ask my partner in crime to decide for a winner as soon as possible. And I have no clue how he will think... since all three are so different and so damn good interpretations of the challenge...

Finally... a new month means a new challenge..