Susny's summer blog party challenge
is a do and don't. It means that some things are a must and some things are no no to have on what I create.


Must have
Alphabet stickers/Thickers

-- Yes
At least two hearts

-- Two plus some more
Journaling square/spot (as it comes, stamped or homemade)

-- Yes, a red stamped one
Drawn contours

-- Yes, on the thickers, the cloud, the heart, some of the handwritten words and on most of the Elsie-papers
Not allowed
Cardstock

-- No, I used a patterned paper as background


Brads

-- I cannot see any

Bling/Glitter

-- Missing


Lace (ribbon is ok)

-- No fabric on this page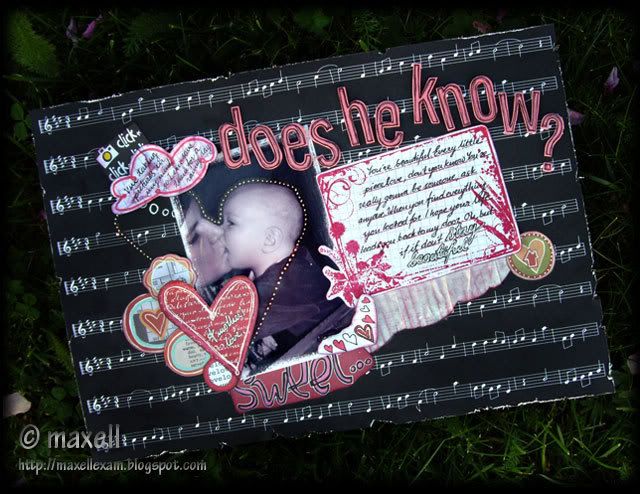 This challenge is combined with Scrapping the music #47 - Stay Beautiful. That is to scrap a layout honoring someone beautiful by inspiration from the lyrics to Stay Beautiful by Taylor Swift. The title "Does he know?" is taken from the lyrics and it represents the unsecurity a mother sometimes may feel regarding if her son does know how much she loves him. The photo is of the first real kiss he gave me. He must have been less then six months old when that picture was taken. The thought bubble says "I'm taking pictures in my mind, So I can save them for a rainy day". This is a constant reminder for me to save pictures of things we do and say and hopefully they will help to console and comfort when things get tough at the same time as I will have funny stories to tell...

The journaling is the chorus which go

You're beautiful
Every little piece love, don't you know
You're really gonna be someone, ask anyone
When you find everything you looked for
I hope your life leads you back to my door
Oh but if it don't, stay beautiful

A mothers door is always open regardless of what happens. But... does he know? That's something you never can take for granted. And... it doesn't matter how much you wish him to know...