The fifth thing to scrap about for We Dare You was a favourite thing. One thing that we really like. I couldn't figure out one single favourite artefact so I interpreted the challenge and scrapped about my all time favourites - in music. The list is on the altered and kawaii thing which is
hidden
behind the photo.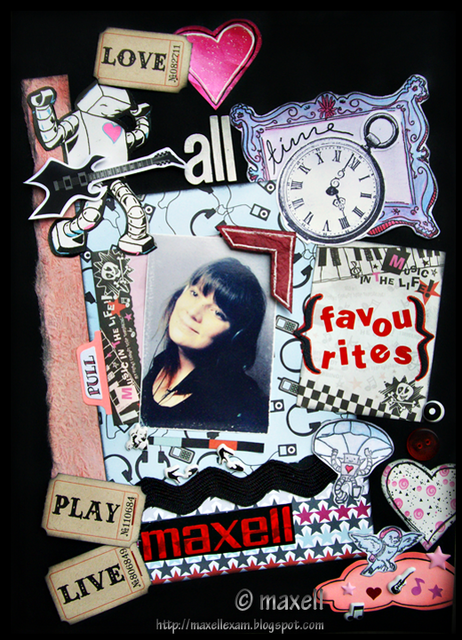 I used three Holtz tickets and one transparent red button from the second We Dare You kit. I forgot to add a green bling stone to represent Kryptonite... but that's life. :) A lot of the other stuff on this page
(Piggy Tales and Bam Pop)
are available from Jommas.
The black between the patterned papers is actually a new favourite - huge ric rac.
maxell is something that I have kept for years and years now. It's a part of the plastic wrap around some old maxell... was it VHS-tapes or was it even ordinary cassette tapes?

After finally finishing this page I ask myself one question. Why the hell am I so stubborn to that I do pages like this? Too much time. But... it's incredible fun to make 'em...