Have you ever considered what the background of a page represents? Does it add to the page? If so, what and how does it add?

About a month ago, my partner in crime asked why I even used a background. I answered that I had it since I like the contrasts.
I can, by
choosing the right(tm) background color, bring out other colors, the photo/photos and all the decorations. Have you reflected over that aspect? Have you ever noticed that effect? Have you ever changed the cardstock or whatever you use as a background while you scrap since the first one you picked out didn't turn out as you wanted? If not, try and see. And contemplate and learn.
Personally I'm very found of a black background. I think it brings out every other color in such a great way. It should however be noted that a black background is more suitable for my style of scrapping as compared to, for instance, a vintage or shabby chick style of scrapping. The clearer the complementing colors are, the more a black background is suitable. Look for instance at this page. Here, the neon colors are really popping out of the page together with the white (and other colors) painted black background. And, in it's turn, the black and white photo pops out from the bright neon colors at the same time as it complements well with the background. The black Diesel letters was given and with a tint of cerise, they match in with both the doodling on the photo and the pink/cerise as well as the black in the background.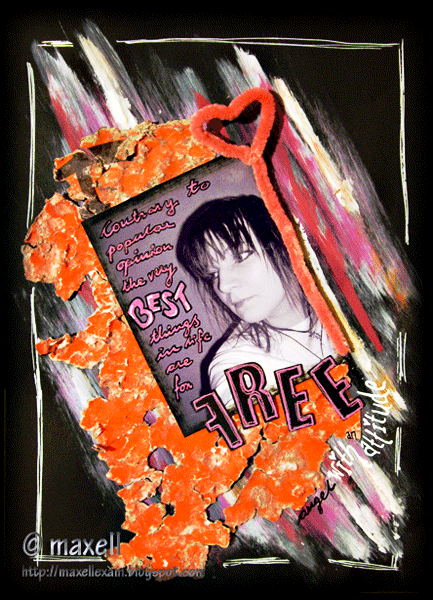 Back to the vital questions regarding if and if so, what does the background represent? After my partner in crime posed me with that vital question, I challenged myself to scrap a page without any background at all, that is to use a transparent background. I simply took an OH-plastic and started to create. Look at the nice contrasts I managed to achieve by that choice. Note however that a picture can never show this effect in it's full bloom. It simply has to be experienced. The fact that I then took a photo with a background of our rainy garden figuring our plum tree and some yellow flowers was an unexpected add-on. :)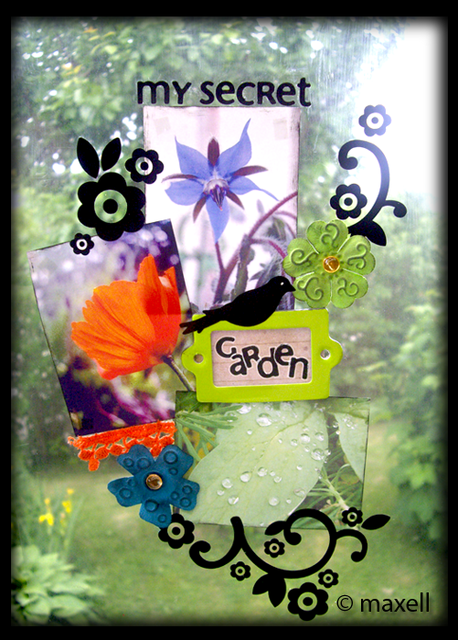 You can only guess what happened? Now, I almost always start out with an OH-plastic as background. I add photos, papers, decorations and so on. Somewhere on the way, the color and/or pattern, if any, of the background just matures before my eyes. Perhaps I have some help since I have a black desk where I scrap and I'm pretty used to a black background. :) It should be noted that I'm not sure that this way of scrapping suits everyone, but it defintly suits me - a person which is flexible and not afraid to change my mind. Put another way, it keeps me open for whatever may turn up as important to highlight at the same time as I'm able to keep in touch with my intution and feelings concering how and what I'm about to create.

Finally.

How should you answer the title question: Which role does the background play?

Share your thoughts by posting a comment. Also, let yourself be inspired and try another new approach to the background. And... for the win-win that will increase our scrapping knowledge,

please comment to the specific posting by giving a link to whatever you create or some up with from the theme in question.

I know that I have to try out more patterned backgrounds. Any day now... :)