Mini-piles of Ephemera must be among the best things that have happened to scrapping. Have we seen so many wonderful and more or less unique things to decorate your pages with? Five random decorations from such a mini-pile was included in Jommas small May kit. I received a nostalgic bubble sticker of an airplane and tickets with perfect color matching to the patterned papers. These decorations directly gave the theme for this page and I started my hunt for that "old" photo of him when he is flying for the first time in his life. He is not even three months old when I put him in a cabin seat to take him to a warmer climate.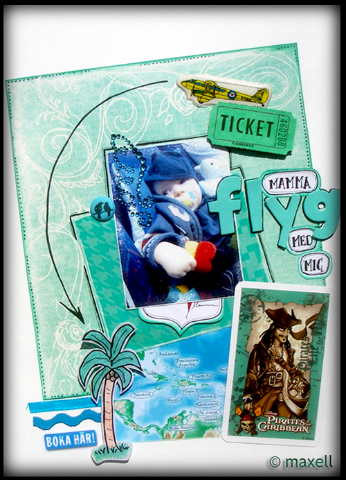 Rather recently he asked me if we could fly. I answered him that we had already done that. Several times. He has a good memory and a sense for details, but he was probably too young to remember these flights. So. For that reason I have now promised him that one day will his wish "mommy fly with me" once again come through.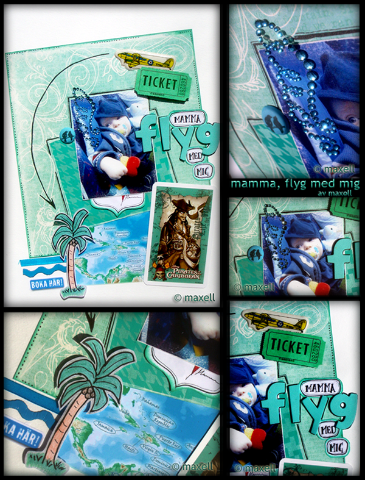 Decorations from the kit are airplane bubble sticker, ticket, self-adhesive bling wing (Prima) and bird brad (Prima). All other things are from my stash or exclusively made for this page. And look how good the paper from Prima matches the one from Hambly…. and also the map. :)
Material
Paper: Heavenlies (Prima - Angelique Collection), Houndstooth (Hambly - Screen Prints - Hand silk-screened)
Decorations: Self-adhesive bling wings (Prima), Brad (Prima - Morning Song Collection), Airplane bubbly sticker + Ticket + Playing Card + map (Ephemera), Thickers Eggnog (American Crafts), Palm diecut (hand drawn), Satin ribbon, Ric-rac
Fluid chalk: Aquamarine
Color: White acrylic color
Pen: Black and Red, Colored pencils
Click
here
for Swedish version.