Idag är det Norges dag - syttende mai. Dagen till ära plockar jag fram en äldre layout av mig.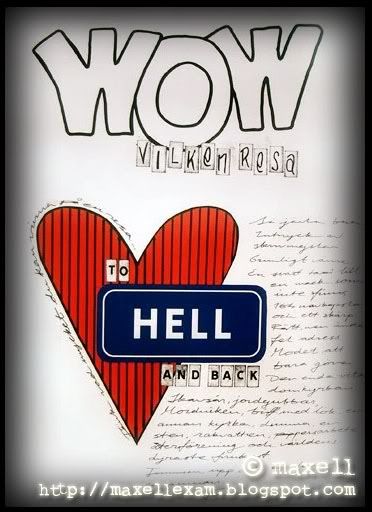 Denna layout handlar om mitt starkaste band till Norge. Titeln säger



"(Tänk vad mycket du kan vinna på en resa) to HELL and back"


Det finns inga foton från denna resa och det är lika bra. Nu är layouten - liksom resan - personlig genom att jag ritat, skrivit och haft mig. :)

Å ja, det är en evig kärlekshistoria utan dess like. Utan Norge och staden HELL hade jag - eller snarare vi - inte varit där vi är idag. Så...


TUSEN TAKK NORGE!
JEG GRATULERE DERE PÅ SYTTENDE MAI.

Den riktigt nyfikna kan läsa journalingen genom att klicka på bilden. :)

Fler alster som firar vårt grannland och går i Norges färger hittar du här och här.



Icke-scrapmaterial

: Vitt papper, rött papper, "stadsskylt", svart spritpenna (!) för rubrik och för att rita hjärtat, handritad stor rubrik samt min egen handstil i rubrik och journaling.