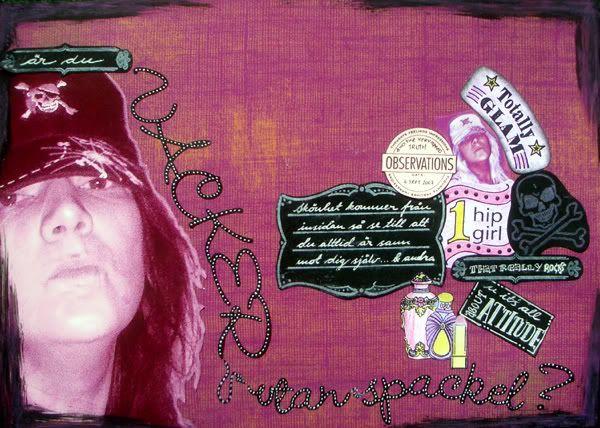 Jag har upptäckt att det är hur roligt som helst att skapa utifrån ord. Det är en skön känsla att tolka och spinna loss kring ett ord och du kan komma väldigt långt om du bara låter det hela flöda på. Den här LOn är gjord för swescraps ordutmaning

Vacker

och visas på samma sida som ett bidrag till Ett ord i veckan - v35.

En riktigt jobbig låt gav mig rubriken... Jag är inte hundra på om all journaling går att läsa men jag skriver lite om hur jag tänkt kring den och visar på hur hela LOn byggts upp och hänger ihop... Som "vanligt" kör jag med flera olika journaling på en och samma LO. Rubriken är en fråga som resten hänger ihop med. I journalingrutan står 'skönhet kommer insidan så se till att du alltid är sann mot dig själv... & andra'. Sedan spann jag vidare på texten i 7 Gypsie stämpeln så där det redan står "Thoughts Feelings Impressions" la jag till "and the very Naked Truth". Sist kommer "1 hip Girl that really rocks n its all about attitude". Texten "Totally Glam" tycker i alla fall jag passar ihop med det lil(l)a fotot som sitter snett under texten ifråga. Bakgrundpappret från BG är roligt för den här LOn. "Color Me Silly - Imagine" kan associera till att jag bildbehandlat fotona och papprets utseende säger i alla fall mig att det finns en skönhet i att inte använda spackel... Vidare har vi lite maskat spackelmaterial placerat strax ovanför ordet i fråga samt en döskalle från stämpelboden som matchar temat, attityden och framförallt grabbens kepa.